SaveArtSpace brings more public art to New York City, showcasing artists on advertising spaces throughout the area beginning December 4, 2017. The selected artists will also be exhibited at The Living Gallery Outpost, with an opening reception on December 13, 2017.
SaveArtSpace: Fragments of Content aims to investigate the representative and interpretive nature of how the Internet has changed our perceptions of the world around us. Living in a digital age, we are faced with a constant interconnectivity, exposing us to an abundance of knowledge, imagery and stimuli. This experience of constant simulacra begs the question of all its participants: are we responsible for determining whether technology will enhance or destroy our society? While we simultaneously form new pathways and devise solutions to create progress using technology and connectivity, are we also alienating and disconnecting from our shared cultural values through our broadband connections?
Since its emergence as the key form of communication in the late 20th and early 21st century, the Internet has defined itself as both a tool and a weapon of Western Culture. It can concurrently deliver information at the speed of thought, but it can also use that information problematically, fashioning a cudgel that bludgeons nuance and depth just as quickly. Data mining, unwarranted mass surveillance, advertising, hacking, online warfare—all of these go hand in hand with the freedom of information and the ability and access to networks beyond our physical realms. The Internet has long been a space where artists have responded to these questions and engaged with it as medium and site of influence, creating new expressions and experiences that both question and inform us of how our IRL lives are now deeply intertwined with our URL existence. Fragments of Content seeks to use the digital medium of the Internet, manifest in the physical world, to explore this liminality in our shared experience online, examining the juxtaposition of how rich and valuable the Internet can be and how dangerous and deceptive it can become at the click of a link.

An qualified panel of curators considered each submission's pertinence to the theme of the exhibition, the context of the images and association to the public space. The curators are Devin Ohanian of The DNA Life; Alexandria Hodkins, & Joseph Meloy of The Living Gallery Outpost; and Independent Curator, Maggie Dunlap.
All submissions will be featured on SaveArtSpace social media pages with the permission of the artist.
SaveArtSpace has held previous Public Art Exhibitions in New York City, Los Angeles, Miami, Louisville, and Golden, Co.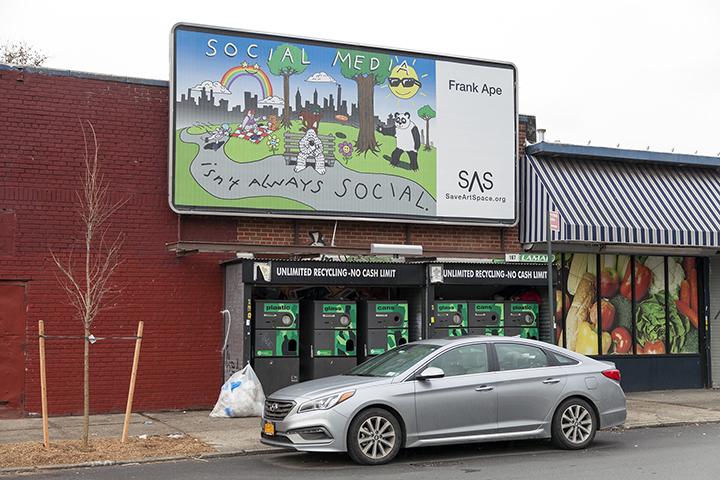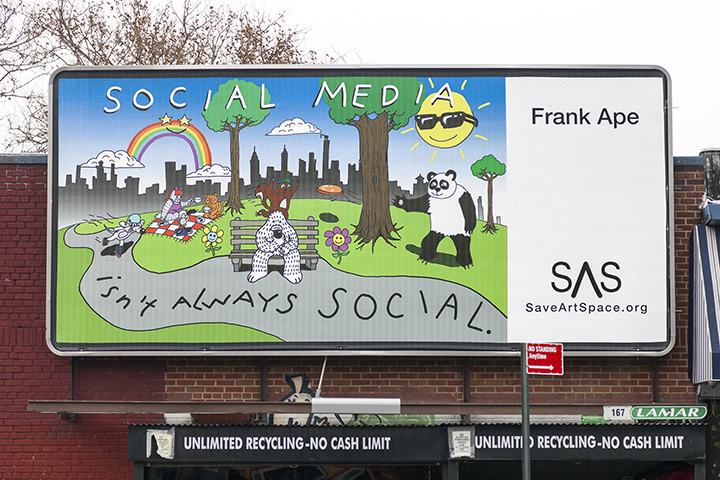 Brandon Sines Social Media
Shortly after moving to New York City in 2010, Brandon Sines combined his use of mythological creatures, pop icons, and made up characters into a new character called Frank. Frank is an "ape" that often takes the form of a cartoon, but is no doubt a reference to Sines himself. Frank explores human issues without human restrictions. With Frank, he had found a way to bring the autobiographical undertones in his work to the surface with a playful character who was instantly accessible to everyone. Much like New York enables both anonymity and stardom, Frank gave Sines the ability to be invisible yet fully present in his work. This added a deeper sincerity to his paintings which enables viewers to connect with his work on a highly personal level.
Connect with Brandon on Instagram at @frank_ape or @brandonsines and also at frankape.com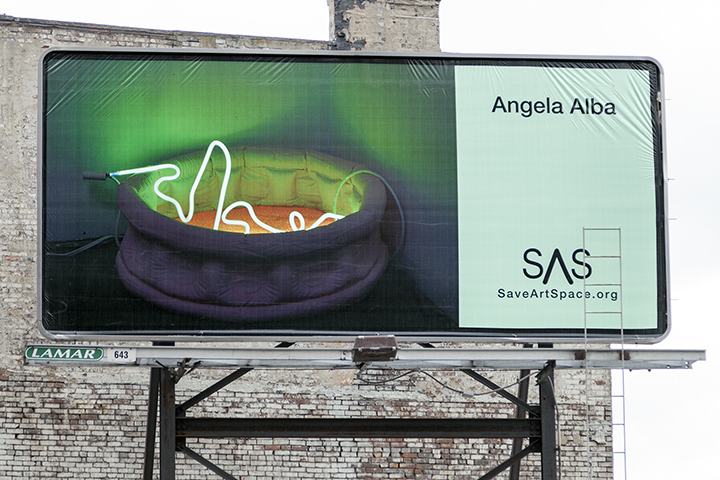 Angela Alba Pink Pool
Artist Statement
"It's important for me to be able to laugh at myself when it comes to mistakes and embarrassments. This feeling is something that I want to relay in my work, and I'm happy if I'm able to make at least one other person laugh about it too."
I create sculptures, installations, and drawings with the intention to celebrate ones ability to accept themselves and be self-confident in a society that isn't always supportive of their choices and way of life. Each piece is a narrative based off of my own experiences of self-doubt, self-consciousness, and unworthiness that I have transformed into acceptance and love, all topped off with just a hint of humor.
Because I am creating work within the limitations of city living, I allow Brooklyn to give back to me in the form of inspirational found objects such as bottles and antique furniture. Brooklyn is my art supply store. I unpolish the smooth surface of the found objects using modeling compound, paint, or spray foam and create lumps, imperfections, and frivolous forms that one would typically want to conceal. The idea is to turn the object inside out, exposing the guts. I refer to the concept of abject phenomena and replicate it on a surface by sculpting boils, pimples, cysts, and ingrown hairs.
My pastel color palette is sweet and delicious, the antithesis of my abject content. I add pops of intuitively bent neon lights to push the idea of this paradox further. I allow the silhouette of my object to guide my decision regarding which color I will apply, and the forms that I will invoke on the piece. The work takes on a transformative quality that I attain when I obscure it through scale, quantity, color, surface treatment, material, and form.
I draw inspiration from the reality of situations and extract the dry humor that lies within even the darkest moment. The straightforwardness and bluntness of the concept is the set-up, and the finished piece is the punchline.
Artist Bio
Angela Alba is best known for her sculptures, digital drawings, and installations that capture an essence of the comedic value of today's social norms and the natural anxieties that come along with it. A visual artist born and raised in Brooklyn, New York, Angela's serious interest in the creative realm began in her teenage years as an Art Major in high school. In 2015, she went on to earn her BFA with a focus in sculpture at the School of Visual Arts and received grants from SVA in collaboration with institutions such as Mana Contemporary and Brooklyn Glass to create bronze, glass, and neon sculptures. Since then, Angela has shown her work at galleries in Chelsea, SoHo, Los Angeles, and Brooklyn as well as internationally. Additionally, Angela is the founder of the artist interview blog, "So, I Hear You're An
Artist." Angela's work mimics the dry humor in which millennials engage on social media through dating apps, sharing memes, gifs, videos, and photos. With an emphasis on soft pastel colors, she incorporates intuitively bent neon, a sporadic use of spray foam, and wet looking resin, creating a grotesque, intestinal quality on a surface. The subjects of femininity, the reality of melancholy, and humor are recurring themes in her work. Angela currently works from her studio at Brooklyn Art Space in Gowanus.
Connect on Instagram at @angelaalba_.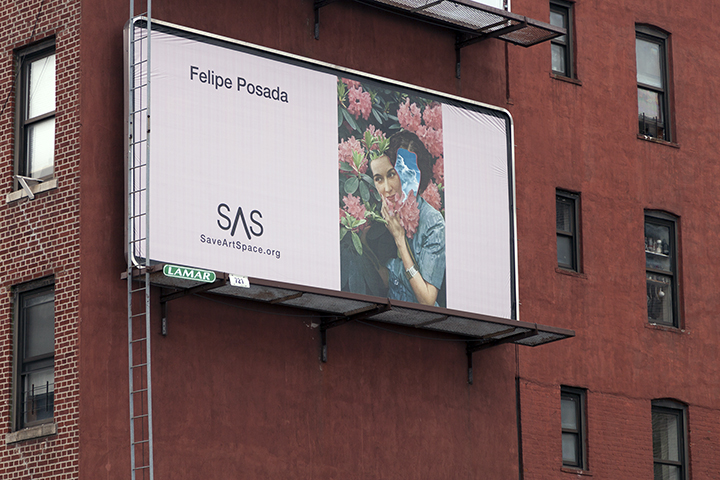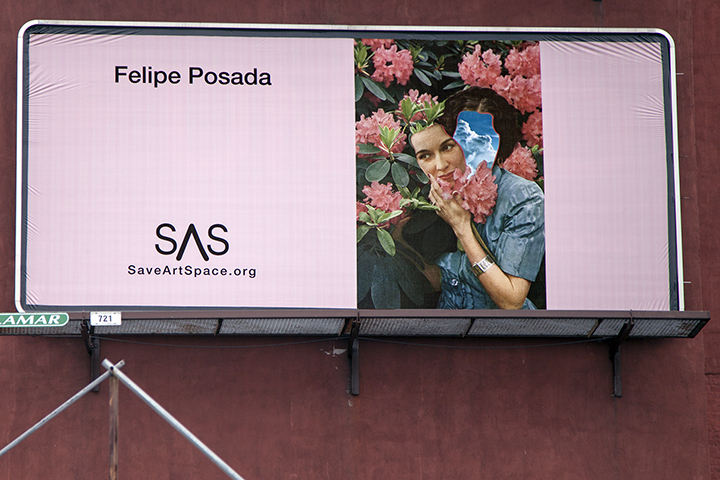 Felipe Posada Identity
Bio:
The Invisible Realm is home to Felipe Posada, Visual Artist and Creative Director working in the fields of Digital Collage, Motion Design, Film, Branding and Advertising. With an MFA with emphasis in Motion Graphics from the Savannah College of Art and Design (2004) for over than a decade, Felipe has worked commercially as a Designer, Animator, and Creative Director, leading teams and developing the most surreal and innovative projects for advertising agencies, content studios, brands and world-known artists. Through The Invisible Realm Felipe started a personal journey to develop a body of artwork that explores his most intimate feelings, thoughts and beliefs as well as exercises his sense of aesthetics. Felipe lives and works from his studio in Brooklyn NYC.
Artist Statement:
My artwork is a journey through the invisible realm: a dimension where intuition, memories, visions and dreams are free to take visual form. Through my art I revisit concepts that have fascinated me, scared me and intrigued me since I was a child. The results, often unpredictable, are compositions filled with symbolism and hidden meaning. Topics such as metaphysics, mythology, space exploration, sacred geometry, anthroposophy, the Goddess can often be found in my artwork, sometimes infused with a dash of retrofuturistic nostalgia and mixed in with the inevitable influence of pop culture that engulfs us.
Therefore it is valid to say that my work relates to my own existence but it also makes part of a greater conscience ...or to be more precise, to the collective unconscious.
Size: 28 in x 40 in, Framed.
Connect on Instagram at @the_invisible_realm.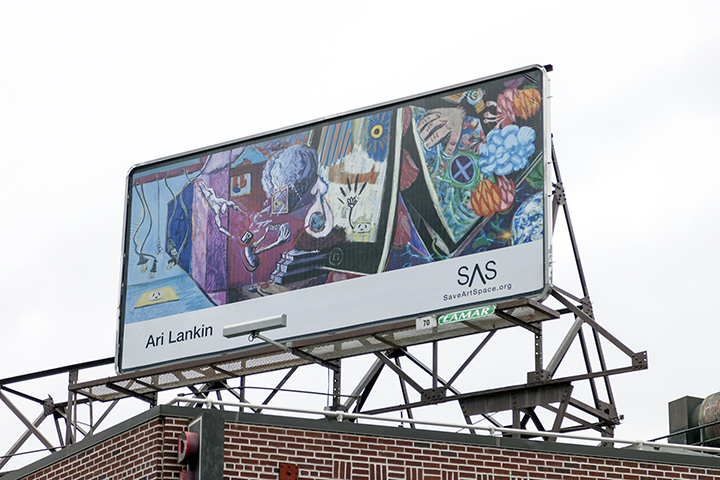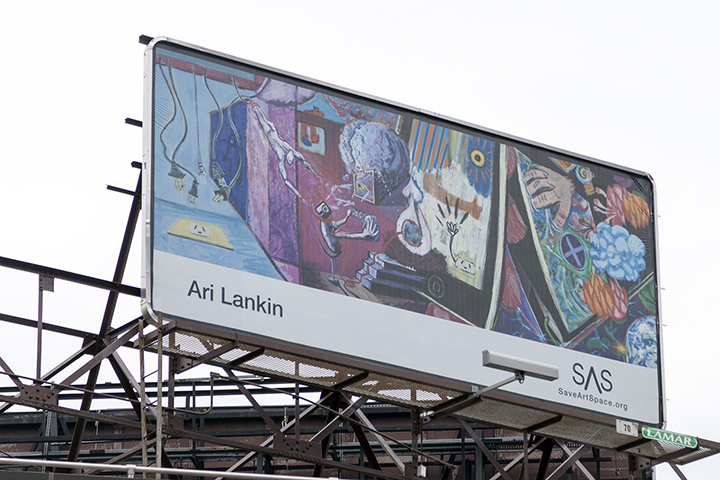 Ari Lankin Janus
Artist Bio/Statement: Over the last decade Ari Lankin has extensively developed painted languages exploring abstraction, concepts, and realism. His current paintings are intentionally open to interpretation and rich in visual sensation. They hover on a slippery line between mystical and scientific. Paint handling, invention, and exploration of the picture plane are crucial aspects of his search. His interest in other artists and art history is passionate. Education and curation are important aspects of his practice. Lankin lives in Manhattan where he has had his studio for over a decade.
Connect on Instagram at @arilankin.
Curators
Devin Ohanian of The DNA Life: DNA is a multifaceted company part creative agency, lifestyle company, and mobile app publisher. We aim not only to provide people with great services, but also to leave a positive impact in the communities that we affect. We accomplish this by promoting a lifestyle that includes innovation and creativity, living sustainably, keeping mind, body, and soul aligned and balanced, and empowering others to reach for their full potential. Our aim is to light the creative spark in individuals to think outside of the box and make a positive change in the world.
Maggie Dunlap (b. 1995) is a multimedia artist who primarily works in installation, illustration, fiber, and text. Her work has been described as "Kitsch meets dark gothic underworld" by i-D Magazine (2015). She has been in various group shows in New York and created immersive installations at Spring/Break Art Fair,The Untitled Space, and in 2015 had her first solo show, TENDER, at & Gallery in her hometown of Miami, FL. Maggie's work has been covered by Hyperallergic, i-D, Huffington Post, W Magazine, Art News, Autre Magazine, and Dazed.
Alexandria Hodgkins is a youth and arts specialist and with a Masters degree in Community Economic Development. She has written articles for After School Matters and spoken at numerous conferences and panels on the importance of arts programs for positive youth development. With more than a decade of nonprofit and youth experience, Hodgkins hopes to infuse The Outpost with educational programming for students and artists alike.
Joseph Meloy is a visual artist born and raised in Lower East Side Manhattan. Working in a style he coined "Vandal Expressionism," his particular brand of post-graffiti abstraction draws heavily from AbEx, art brut, surrealism, cave painting and pop art. Invoking primal elements of graffiti and the iconography of damage and intrusion from street art to turn the calligraphic scribbles of the street into a medium for artistic divination. Meloy's murals can be found all over New York particularly in the Lower East Side.