#SAVEARTSPACE: Los Angeles
#SAVEARTSPACE is bringing public art to Los Angeles, showcasing 10 local artists - Danielle Garza, Lois Keller, Jung Yun, Gaetanne Lavoie, Shark Toof, Pascaline Doucin-Dahlke, Lucinda Luvaas, Deborah Farnault, Shula Singer Arbel, and Frankie Carino - advertising spaces throughout the area beginning January 16, 2017. The event is organized and curated by #SAVEARTSPACE co-founders Travis Rix and Justin Aversano.
This exhibition is entitled, "We Only Have One Place To Live." The artists responded to the most important global concern, which affects all of us—the current and changing state of our natural environment. Recently, scientists and researchers identified that we are now living in the first epoch in Earth's history where our environment is being actively changed by human activity across our planet.
"We Only Have One Place to Live" aims to explore the tension between human society and the environment; between static and change. This exhibition asked local artists to voice their passionate concerns about how environmental change is affecting our globalized society and also the philosophical and existential questions that arise when we are both the problem, and the potential solution, to the crises our world faces.
Please join us for an Artists Reception on Friday January 20th from 6pm - 9pm at Superchief Gallery, 739 Kohler St, Los Angeles, Ca 90021
#SAVEARTSPACE has previous held four Public Art Exhibitions; three in New York City and one in Miami, Fl.
#SAVEARTSPACE transforms advertisements into Public Art by and for the local community, creating an urban gallery experience to benefit people of all ages and backgrounds.
Danielle Garza, dubbed "Ellie Rex" is a Los Angeles-based mixed media artist. Her work is distinct- wildly colorful and of a psychedelic nature, full of vivid and surrealist fantasy worlds typically made with found paper and enhanced with her handmade paper marbling- an aqueous surface design which can produce patterns similar to smooth marble or other kinds of stone. Through combining collage and painting, Garza encapsulates her visualized dream-worlds, enticing viewers to get up close and personal into a contemplative experience.
Garza fell in love with collage in her early adolescence, often cutting and/or pasting anything she could find from used books and magazines to small three-dimensional objects. Her interest in painting quickly followed suit, and she taught herself how to marble paper and fabric, later teaching workshops on how to incorporate the best techniques.
Among her creative achievements, Garza has designed album covers for recording artists, print design for music festivals, and exhibited and sold work throughout contemporary art galleries across the U.S. Additionally, Garza has experience in creating work for the public art sector in painting large-scale murals which encourage engagement in the surrounding environment and community.
In the midst of a seemingly endless drought that lays bare an ill-conceived concrete river for all to see, it gets lost that California has a rich history of environmental stewardship filled with people who have made important contributions to our home. I thought the most hopeful way to look toward the future was to remind everyone of some meaningful figures from our past.
Hilda Lucia Solis - b.1956 Hispanic Congresswoman known for her work on environmental issues in California.
John Muir - b.1838 Engineer, naturalist, philosopher, writer, botanist, geologist. Father of our National Parks and founder of the Sierra Club.
Chumash Indians - The state's first environmentalists.
Judi Bari - b.1949 Fearless environmentalist who led campaigns against logging in the Redwood Forests.
Charles Young - b.1864 First African American U.S. national park superintendent. Expanded the size of the public land in California.
Sylvia Earle - b.1935 Marine biologist, explorer, author and lecturer. Started Mission Blue that works to establish marine protected areas.
California Sea Otter - Once numbered in the thousands, were reduced to less than 50 in 1914. They are now rebounding through successful conservation programs.
California Condor is extremely endangered and is a symbol of the fragile eco-system in which we live.
Jung Yun is a Korean-American artist based in Los Angeles. He is the founder of the multidisciplinary, laGoon Collective. Constant global adventures lead Jung to gain inspiration from the discovery of underground cultures and remote scenes. Those scenes depict structure and landscapes. which you can see in his paintings. While working in the studio, Jung researches current scientific breakthroughs and social changes to make paintings become more relevant to the modern day art community.
Website : lotusjung.com
Instagram: jung_lotus
Email: jiyun0816@gmail.com
My current body of work focuses on conveying ideologies of freedom. I have been working to express my personal philosophies of spirituality in relation to the human condition by developing narrative compositions that project emotional contrast. Bright, vibrant, saturated colors, and feminine patterns combined with an often somber and introspective mood projected by the figure enhance the contradictions that are often experienced in seeking a different plane of consciousness. Within the perceived 'negative' emotional state lies the potential for release and within that release lays freedom.
Rather than continue to depict the struggle my work has evolved into narratives of peace, strength and certitude. My latest compositions incorporate levitating figures, confident portraits, mythical creatures and mythical environments as a means to enhance the magic that is attained in viscerally experiencing transcendence. Bright, vibrant, saturated colors, and feminine patterns will work in conjunction with the composition and ethereal mood of the painting, symbolizing the unity attained through symbiosis.
I hope that my work can not only be seen but also felt. My concepts are jumping off points for which I hope dialogues to begin. It is always amazing and enlightening to hear about other people's perceptions of my work and the viewer's thoughts are most welcome.
Currently being sold through Stricoff Fine Art: www.stricoff.com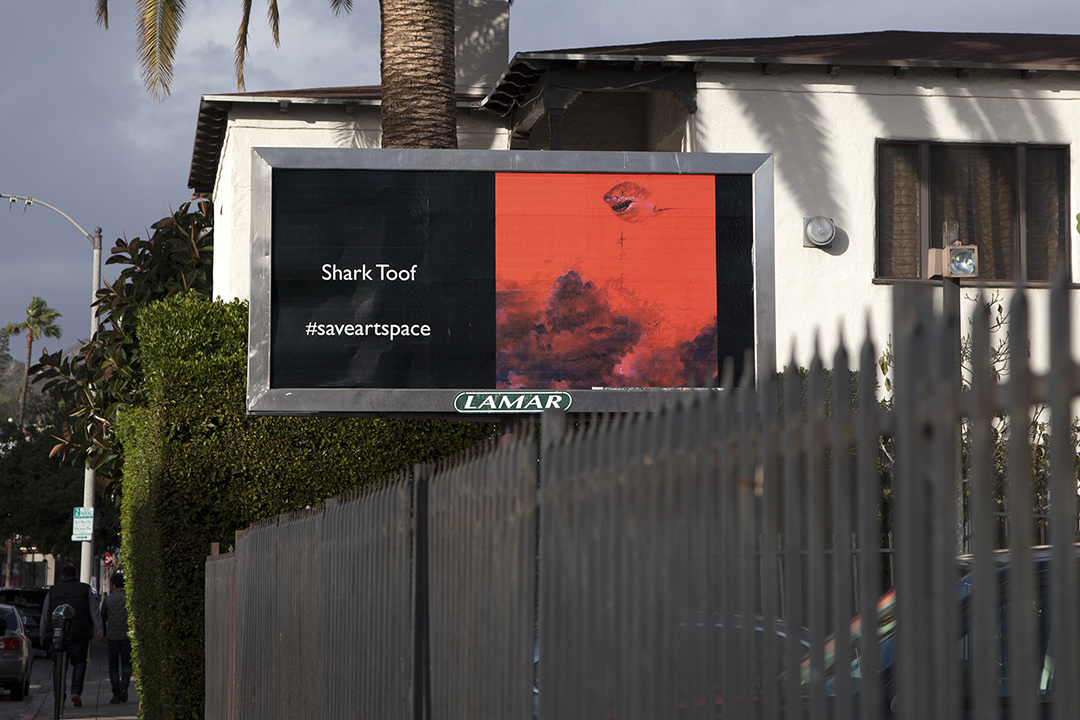 Shark Toof is best known internationally for his iconic wheat paste image of a hand drawn shark with TOOF in the mouth. Although the shark's reputation is often fearsome, Toof uses the image instead to give strength, optimism, and possibility to the viewer. The shark icon is a voice of rebellion, a conduit for the unheard, and an homage tograffiti art and its purpose.
His ever evolving cache of work includes Guilty Pleasures, a series of iconographic cigarette packs and slot machines, the pulp-comic inspired Mayday series of idealized romance, and pop culture caricature shark heads featured in his solo show, I'm Shark Toof, Who The Hell Are You? at Innerstate Gallery. Symbiotically, His most recent solo show Red Everything at CASS Contemporary with attention to juxtaposition of shapes, line quality, composition, varying materials, and tension of content, Shark Toof's most recent fine art paintings become an intimate look onto ourselves, questioning our belief systems, where boundaries are challenged and the viewer is left reflecting.
Shark Toof's work is recognized and collected globally, from the young graffiti artist who craves the icon he must rip from the streets to the contemporary art collector who covets the renowned artist's full repertoire. With roots deep in graffiti and an education from Art Center College Of Design, Shark Toof possesses the technical skills of an Old Master and the spirit of an art-minded vandal, granting him the ability to move seamlessly between styles.
His accomplishments include a second showing at the Chinese American Museum where he is part of their permanent collection, a show with The Everhart Museum in Pennsylvania, and a show with the Portsmouth Museum Of Art. Shark Toof's murals are recognized globally, with clients that include Ritz Carlton, Samsung, Apple, Hurley, Burton, Heineken.
Shark Toof lives and works in Los Angeles.
Pascaline Doucin-Dahlke is contemporary painter and digital artist who lives and works in Los Angeles. She is licensed as an architect in France who has pursued in parallel an art education in both France and the United States. Being in Los Angeles and a region of constant visual interaction, she has enjoyed developing in parallel two distinct forms of artistic expression which both use traditional and contemporary tools that are complementary.
For each new series, she develops a fresh pictorial vocabulary with different techniques that conveys the singularity of a particular environment.
Her artistic research focuses on the definition of space, light, and graphic limits within a nonconventional approach through vibrant colors and textures that resonate through the photographs and paintings. Overall, her paintings and digital artworks remain within a classic aesthetic harmony. See www.pascalinedoucindahlke.com to view the extent of Pascaline' s art over the past ten years.
As her personal conviction, she considers art, for both the artist and the viewer, "an uplifting and challenging experience filled with emotions."
'Picnic Table in the Water' Statement:
This digitally manipulated photograph was taken the third year of the California drought (early 2014) in Lake Casitas. 'Picnic table in the water' shows a lost, distressed public park furniture in the middle of a lake drastically shrunk in size.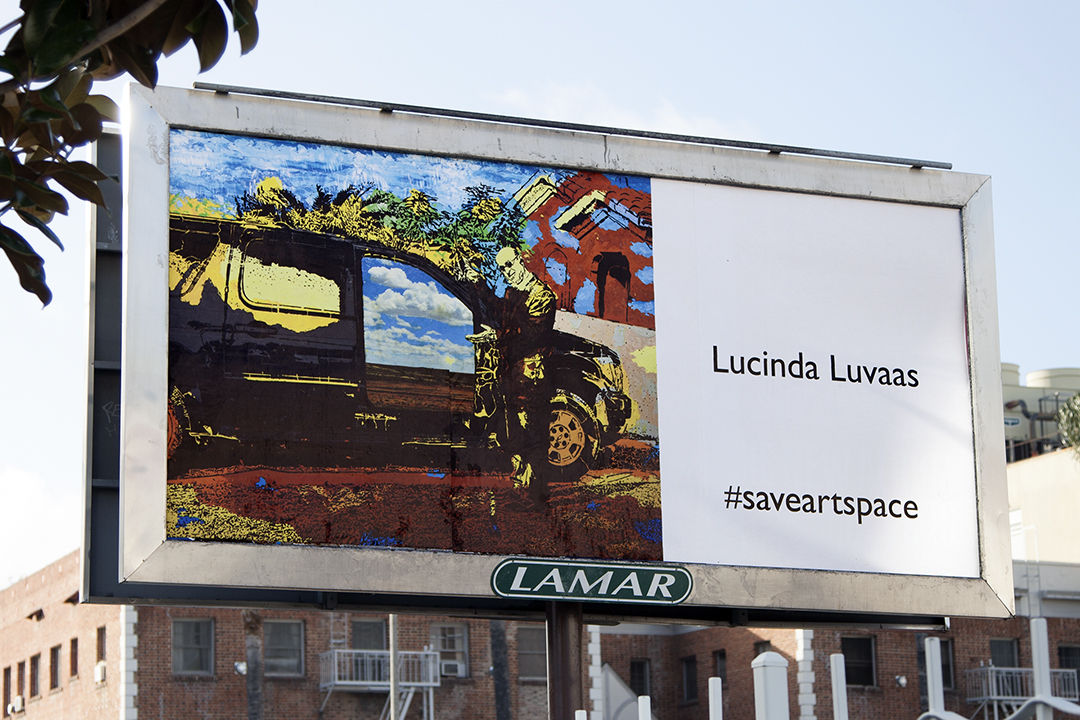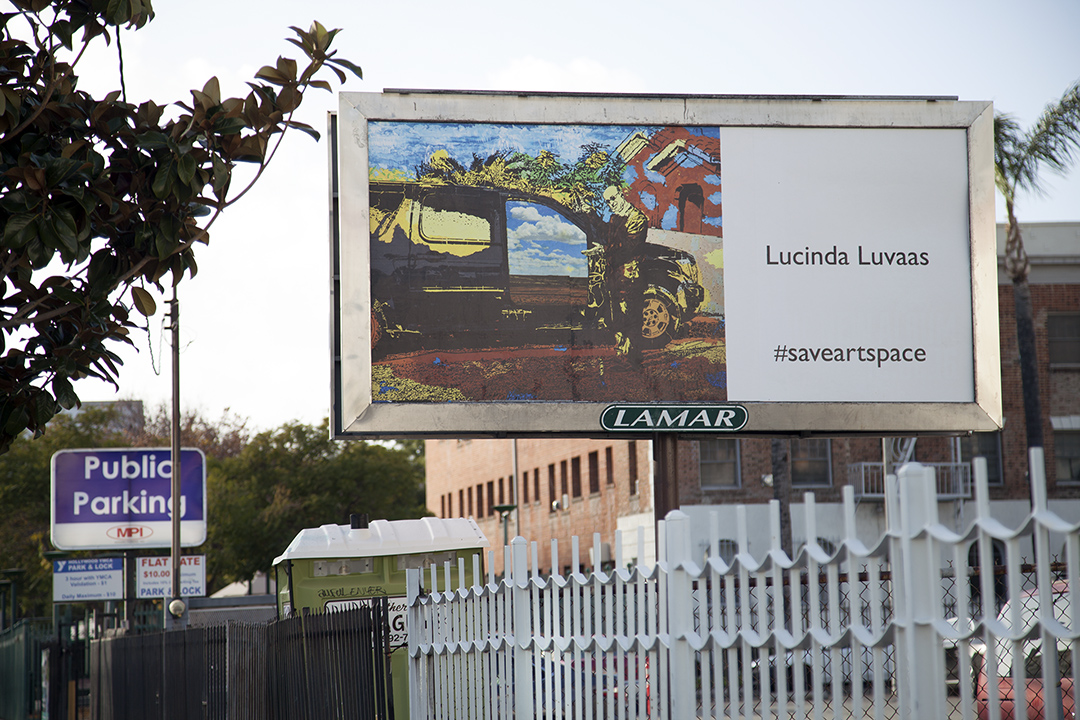 Lucinda Luvaas is a multimedia artist originally from Manhattan who now lives and works full time in her Los Angeles studio.
She has developed a unique form of mixed media relief painting using oils, wax, gel and photo processes. The relief technique is quite exacting and took a long time to master.
Recently, she has been creating pieces that illuminate worlds within worlds--a portal series-- in which the viewer looks into multiple levels and realities. "The Great Beyond," is a good example of this.
Much of Ms. Luvaas's work revolves around our environment and how we as humans relate to it. She has produced video art pieces that relate directly to her relief works as well as films that stand on their own. Luvaas's work is represented by the Walter Wickiser Gallery, Inc., NYC, the Kontemporary Art Gallery, Calgary, Canada, and the Lois Lambert Gallery, Bergamot Station, Santa Monica, CA. Her multimedia works are part of the Elizabeth A. Sackler Center for Feminist Art at the Brooklyn Museum. She has exhibited her multimedia works in many venues both here and abroad.
ARTIST STATEMENT
My process is a hybrid between painting, relief techniques and printmaking. It took much trial and error to find the right tools for each step of the process such as: sharp scalpels for very intricate, delicate cuts, japanese knives, and italian spatulas of all shapes and sizes. The hard-edged look is painstakingly hard to accomplish...much can go wrong.
For instance, there are many grid-like sections that are laid out on the wood panel, and they must be perfectly aligned and seamless. All of the sections must be secure while imprinting, so that the artist can produce a clean, crisp result. This can be very difficult at times, especially when the sections are delicate and fragile.
I call this technique, "Imprinting," because I see these works as frozen impressions of life much like fossils.
My subject matter mostly revolves around capturing people in environments where they are actively engaged in something whether it is simply walking, watching a crowd, dancing, you name it: all aspects of our daily lives and then creating a sort of imprint of history-- capturing that moment.I've never wanted to depict just what I see, but rather alter things to find a deeper sense or meaning as though I am creating a living being that pulsates and moves with emotions and feelings.
This I feel can really be achieved by combining abstraction and figuration. I'm very committed to figuration, but I'm devoted to it within the context of patterning: using abstract forms, to some extent reducing figuration to abstractions, although very much recognizable in their depictions of real things.
In addition to the above, I've been working with mixed media and relief with subject matter revolving around portals—windows into another world, or another level of consciousness. My first love was drama and film. My visual art reflects my penchant for dramatic scenes and narratives. In addition, I've been musically inclined all my life. I now compose electronic sound not only for my video art pieces, but music written for varied instruments.
All my life I've been creatively engaged in making things, and working with others to express their individual hopes and dreams. I truly believe that the imagination and its many forms of expression is mankind's greatest achievement.
Lucinda Luvaas
2016
More of her work can be seen at: lucindaluvaasnewwork.com, walterwickisergallery.com, https://www.brooklynmuseum.org/eascfa/feminist_art_base/gallery/lluvaas.php, and http://www.nyc-arts.org/showclips/138261/brooklyn-botanic-garden-nyc-arts-news-october-1-8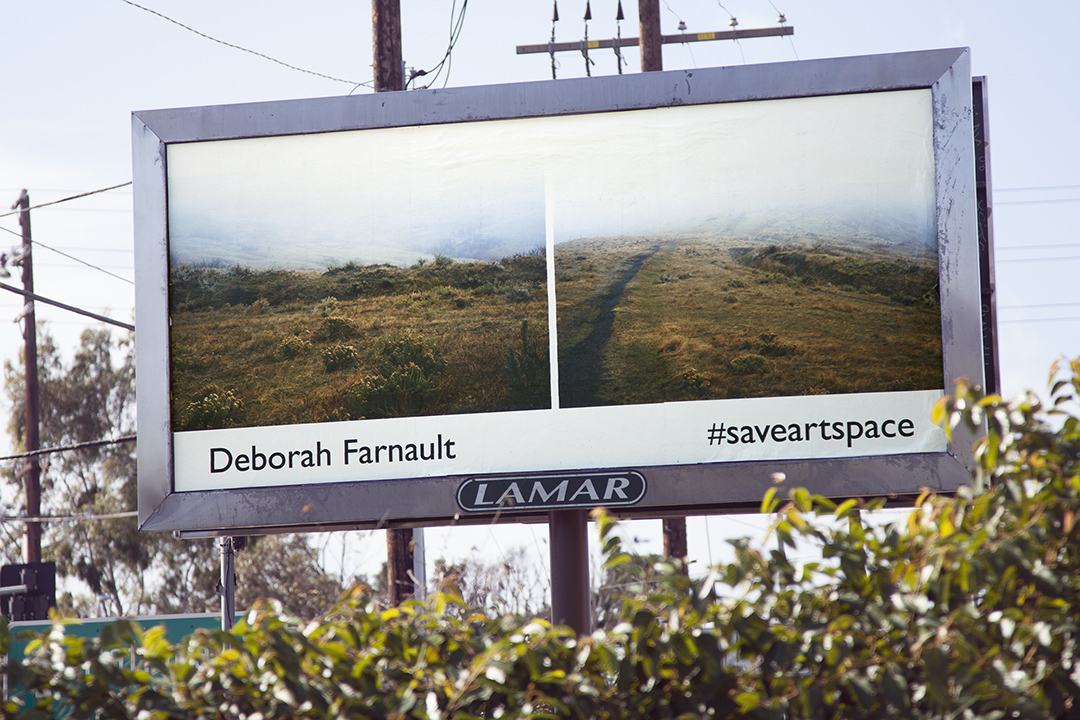 Deborah Farnault (b. 1983 Paris, France) earned a BFA from ESAD Academy of Fine Arts, France, and a MFA from ESAD and KUVA National Academy of Fine Arts, Finland.
Farnault was awarded five residencies in France, Wyoming, and New York. She has exhibited in the USA, France, Italy, Sweden, and the UK, including solo and group shows. Her work has been purchased by a French public collection, and was part of the Montrouge Salon for Contemporary Art, France. In 2011 and 2012, she presented her work at he Parsons School of Design, New York.
Farnault lives and works as a photographer in Los Angeles, and is represented by Fortress To Solitude, New York.
You can view her freelance work here: www.deborahphotography.com.
The convergence of urbanism and landscape is the foundation of my work. Through the use of photography-based research, I observe social structures. I address the ideas of absence, romanticism, and authenticity of experience.
Choosing to study landscape as a cultural construct and a political space, I use the myth of primal nature and apply it to settlements, gatherings, and tourism, observing how our relationship with landscape has turned into a spectacle.
Although my panoramas suggest the formal language of documentary photography, they incorporate subtle manipulations of compositions, color, light, and form, while also consolidating several moments in time. Through a diversity of media, my images represent a landscape that is both beautiful and generic, creating a series of dichotomies between the wild and the tamed, the peaceful and the claustrophobic, the sublime and the picturesque. This viewing experience which could be one of contemplation ends up being one of uncertainty.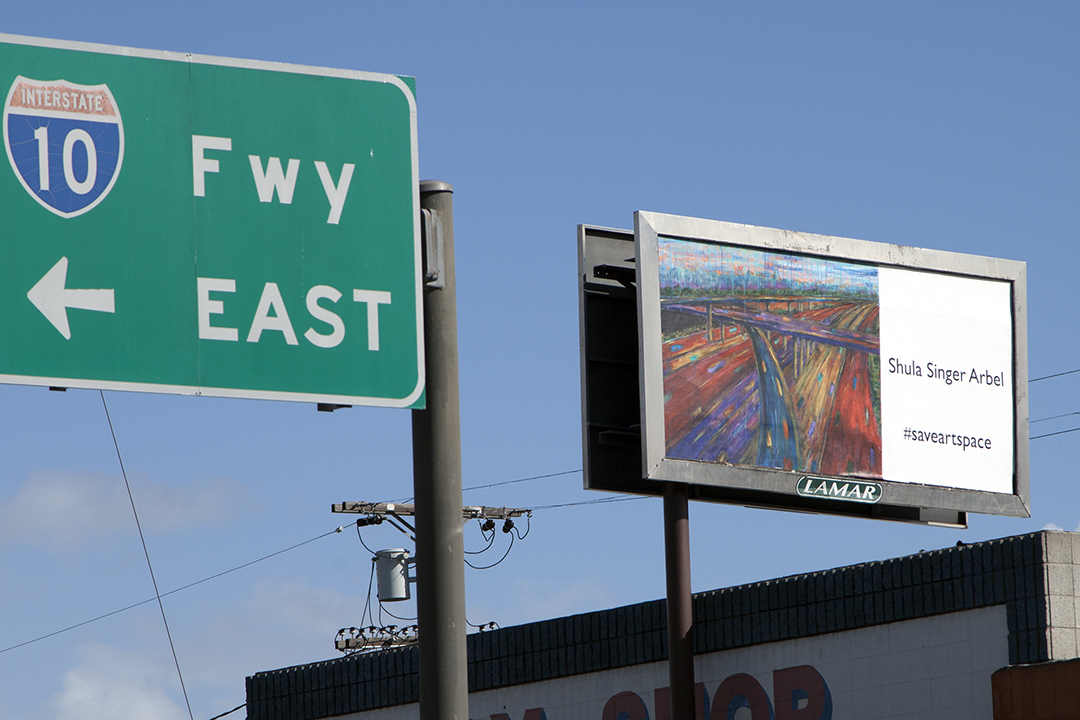 Shula Singer Arbel is a Los Angeles artist working in acrylic and mixed media. Her work is a fusion of abstract, representational and graphic images; a flattening of form mixed with painterly surfaces. Her paintings combine the rationality of structure with the expressiveness of intuition. Color and pattern are the dominant forces informing her work where "more is more."
Shula was born in Israel and moved to Los Angeles at the age of three. She received a MFA degree from UCLA in Film Production and worked in the film industry as an editor, writer and researcher. Shula was the first recipient of the Barbra Streisand screenwriting award. She wrote and directed short films before leaving the business to teach and raise a family. She is now a full-time artist and a member of Los Angeles Art Association, Women Painters West and Jewish Artist Initiative. She has received numerous awards including the Best of Show Award for the 2010 Gold Medal Exhibition at Valley Institute of Visual Arts (VIVA).
Bio: Frankie Carino (b. 1989, San Antonio, TX) is an artist and curator living and working in Los Angeles. Frankie received his BFA in Photography from the School of Visual Arts in New York City in 2013. He has exhibited in New York and Los Angeles and is the founder of Cudayh, an outdoor gallery in Los Angeles, CA.
AS: Frankie's interest in history, materials, metaphysics, and outer space bridges seemingly disparate ideas together using aesthetic associations and media combinations. In this way, his work takes on multiple influences, intermingling them to create its own identity.