School of Visual Arts presents "Street Smart: The Intersection of Art and Design in the City," an exhibition that brings together a diverse group of alumni whose work is made for or about the urban environment.
Brooklyn-based nonprofit organization SaveArtSpace has partnered with the School of Visual Arts (SVA) to unveil their latest gallery show and public art initiative "Street Smart: The Intersection of Art and Design in the City". Curated by SaveArtSpace co-founders Travis Rix and Justin Aversano, the exhibition incorporates a diverse selection of SVA alumni whose work is inspired by the urban environment. Each of the artists -- Feifei Ruan, Sadie Starnes, and Meytar Moran -- will have their work featured on a new billboard installations and in the SVA Chelsea Gallery.
Though many SVA Alumni share the common experience of living and working in New York City, the artists that we selected spoke about a reintroduction of the natural environment back into the urban space. For this exhibition, we chose pieces that speak to the symbiotic relationship humans have with plant life. The show aims to communicate that in order to evolve with nature and survive in an urban environment filled with harmful gases and toxic radiation, it is vital to integrate the natural world into our daily lives.
The billboard installations will launch during the week of November 13th and the gallery exhibition will be on view from Saturday, November 18th - Wednesday, December 20th. A special reception is planned for Thursday, November 30th, 6-8pm, as well as an interactive panel discussion on Wednesday, December 13th, 6-8pm.
This gallery and public art exhibition is made possible by School of Visual Arts.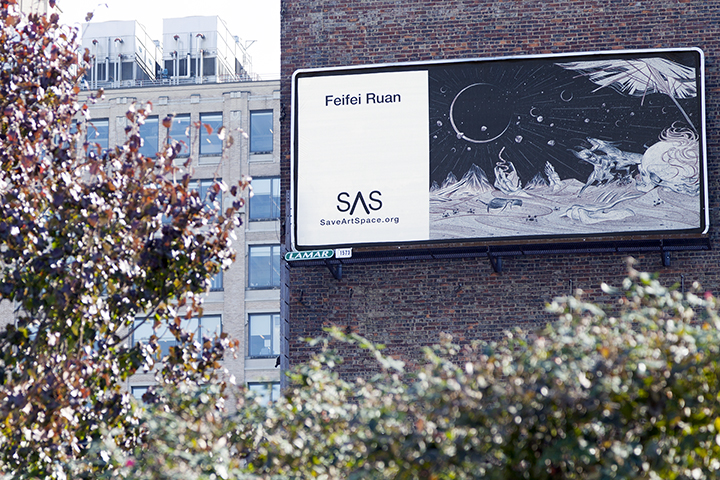 Billboard Location: 650 W 46th St, Hells Kitchen, Manhattan.
Feifei Ruan HUNGRY GHOST
Bio: FEIFEI RUAN is a Chinese illustrator based in New York City. Her work showcases dynamic movement and is highly influenced by Eastern culture. She illustrates narratives exerting strong emotions and captures the fantasy world using detailed lines with simple color palettes.
Artist Statement:
" NO DON'T TALK ABOUT MORE TO LIFE THAN THIS "
" NO DON'T THINK ABOUT ALL THE LIFE WE MISS "
— The Hungry Ghost (Song by The Cure)
You can connect with Feifei on Instagram at @ruan0v0.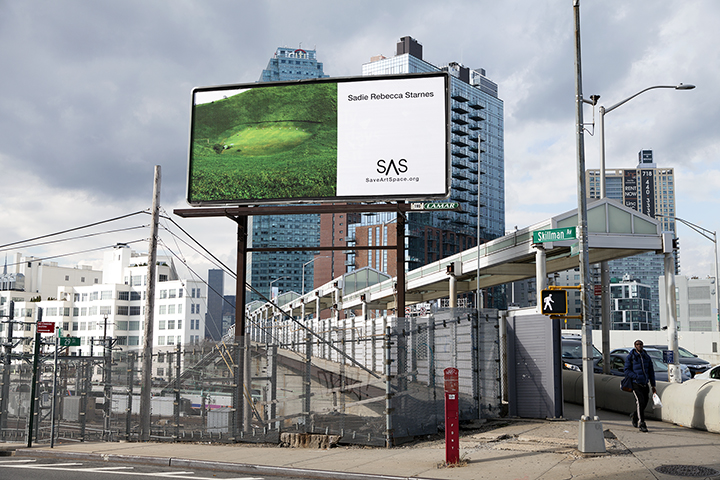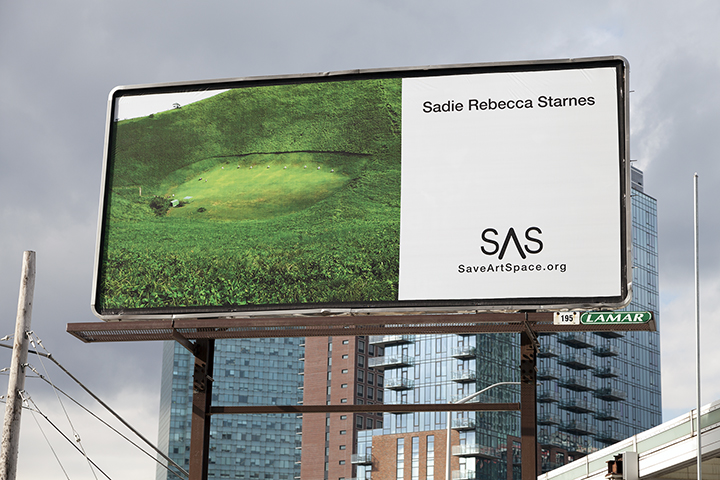 Billboard Location: 29-1 Skillman Ave, Long Island City, Queens.
Sadie R Starnes Archery in the crater of Mount Ōmuro; Izu, Japan
Bio: Sadie Rebecca Starnes in an artist and writer from North Carolina. She has held multiple solo exhibitions between Tokyo and New York, and has worked in a wide range of media—from oil paint to Super 8mm, Geiger counter to wheat grass. Now living in Brooklyn, she regularly contributes art, literature and film reviews to publications like The Brooklyn Rail and Hyperallergic. She is currently working on a science-fiction novel, as well as continuing to make artwork about Zones, memories of the future and nuclear semiotics.
About this work:
"Poetry is born of insecurity ... the impermanence of things."
Chris Marker / Sans Soleil
Mt. Omuro (大室山) is an extinct volcano in Izu, Japan. The yawning caldera is burnt down every February to maintain its bald emerald lining, allowing visitors to practice archery, try the wasabi ice cream, or catch a glimpse of Mt. Fuji. I captured this photograph between the blankets of fog that frequent the crater's edge.
You can connect with Sadie on Instagram at @_sadieray_.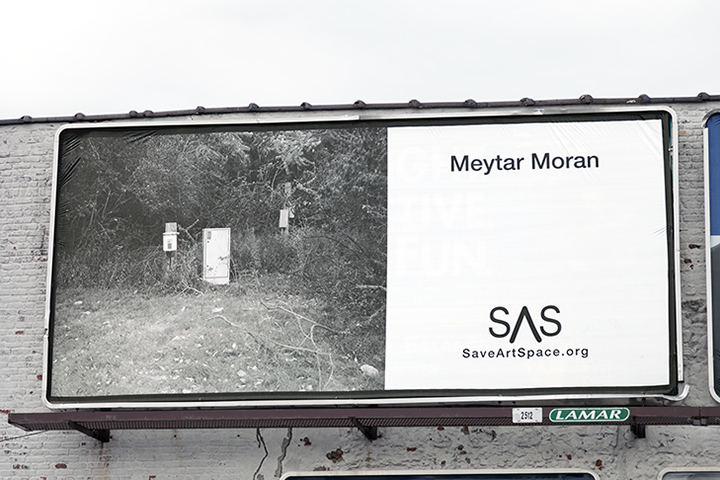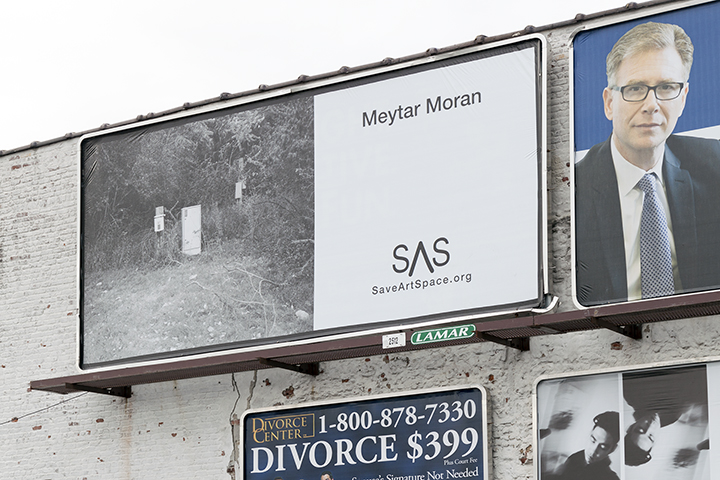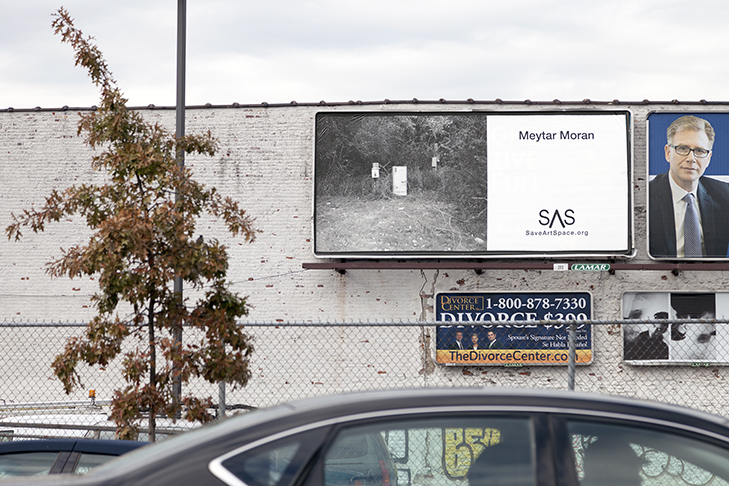 Billboard Location: 1800 Atlantic Ave, Crown Heights, Brooklyn.
Meytar Moran Traces, b&w medium format photograph, 2012
Bio: Meytar Moran (born in 86') is an Israeli visual artist based in New York. Moran recently graduated her MFA in photography, Video and Related Media at the School of Visual Arts, NYC (June, 17'). She received her BFA in photography with honors (July, 13') from the Bezalel Academy of Arts and Design, Jerusalem, Israel. In recent years Moran Has exhibited her works in various venues, including the SVA Chelsea gallery in NYC, The Helen Day Art Center in Vermont, Fresh Paint Art Fair in Tel-Aviv, Jaffa Art Salon Galley, Jaffa.
Meytar's works are featured in both private and public collections, recently including the Museum of Contemporary Photography in Chicago.
Artist Statement: The question of whether or not we are alone in the universe, has been sparking peoples' imagination for centuries. That spark is the material of my practice, as I direct the searchlight back towards the keepers of information and the curious observers.
While I am less interested in solving the riddle of existence, (though it would be undoubtably fascinating), I choose to investigate the mysterious workings of the imagination and how, under the right conditions or contexts, it can produce UFO sightings out of ambiguous visual phenomena; landscapes that only exist momentarily, or strange alien technology out of bland rock formations. I explore the associative implications of assembling fractured meanings as a way of coping with the unknown.

In this recently coined "post-truth" era, it is more evident that the truth is only secondary in significance to our ability to mold it to our vantage, and so I dare ask: What is the fragmented narrative and is it possible to plot its course?