Brooklyn-based nonprofit organization SaveArtSpace is proud to present its latest initiative "SaveArtSpace: The Future Is Female" an all-woman gallery & public art exhibition. Inspired by today's feminist rallying cry which was first coined by the lesbian separatists of the 1970s, the exhibition aims to explore and celebrate the ever-evolving intersectional feminist movement, while redefining and expanding upon the mainstream definition of "the female gaze".
The all-star curation panel of prominent visual art innovators -- Meryl Meisler, Marie Tomanova, Alyse Archer-Coité, Sandra Hong, and Brittany Natale (Learn more about the curators) -- selected works that reflect the multi-faceted reality of womanhood in the 21st century and expand upon society's traditional ideals of femininity. The exhibiting artists include Allie Kelley, Beth Brown, Elise Peterson, Fanny Allié, Jess Whittam, Julie Orlick, Lissa Rivera, Mónica Félix, Nina Summer, and Sara Meadows.
Founded by Travis Rix and Justin Aversano in 2015, SaveArtSpace is a non-profit organization that works to create an urban gallery experience, launching shows that address intersectional themes and foster a progressive message of social change. By placing culture over commercialism, SaveArtSpace aims to empower artists from all walks of life and inspire a new generation of young creatives.
The selected artists will be exhibited at The Storefront Project, July 7 - July 16, with an opening reception on July 7, 2017, 6pm and also a closing reception on July 16, 6p.
All submissions are featured on The Future Is Female Submissions and on SaveArtSpace social media pages with the permission of the artist.
SaveArtSpace: The Future Is Female is An 1m1w1d Event. Made possible in part by Atlas Music Publishing.
SaveArtSpace: The Future Is Female on PIX11 News @ 5pm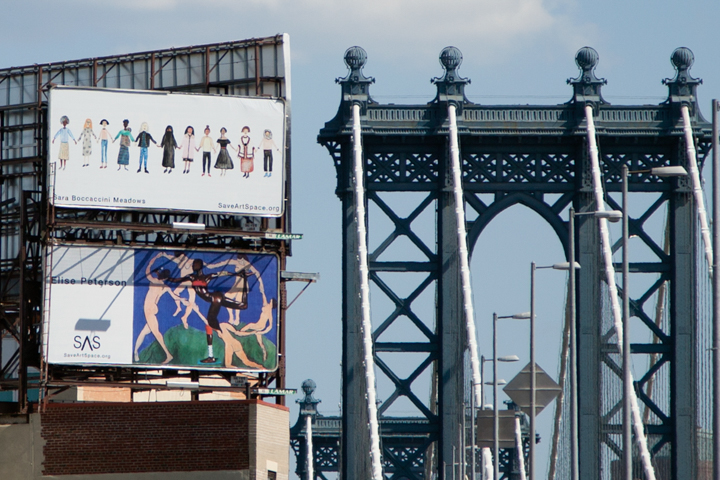 Location: Manhattan Bridge & E. Broadway (89 E. Broadway)
Elise Peterson Grace Meets Matisse
Elise Peterson is a visual artist, writer and educator analyzing how identity interacts with varying sociopolitical factors. Her written work doubles as storytelling and investigating the nuance of identity and sexuality as it relates to marginalized communities. Her visual work is informed by reinterpreting the past in the framework of Blackness, intimacy, and cross-generational narratives.
Size: 48 in x 35 in
Connect on Instagram @eliserpeterson.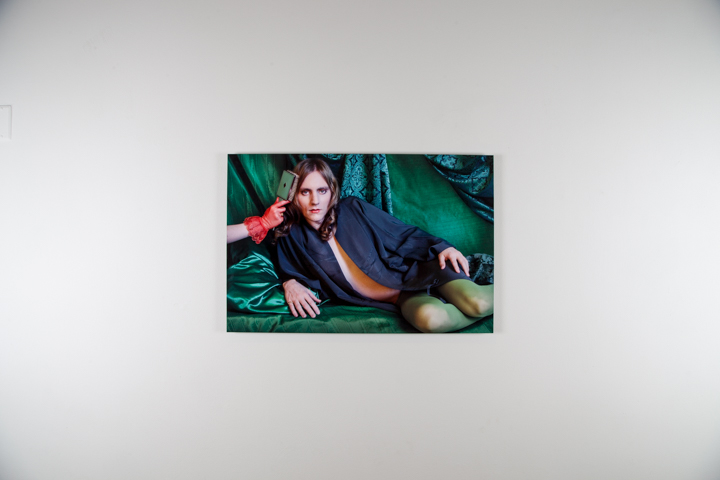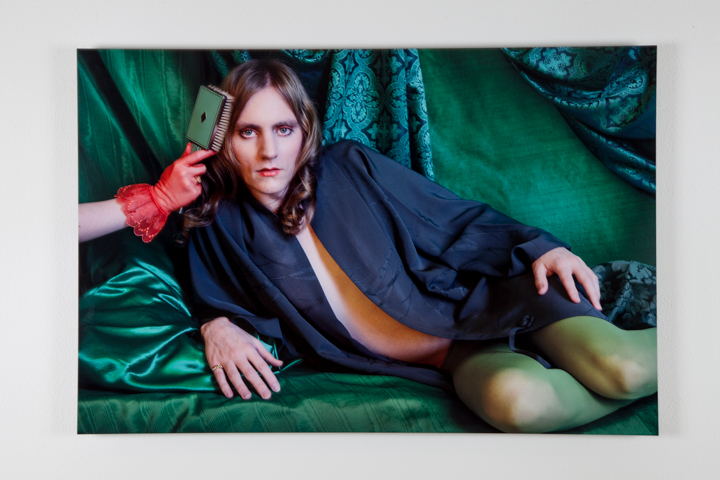 Lissa Rivera Boudoir, Beautiful Boy, 2015. Courtesy of the Artist and ClampArt, New York.
Lissa Rivera is a photographer and curator based in Brooklyn, NY whose work has received multiple grants and honors and been exhibited internationally. Rivera received her MFA from the School of Visual Arts, where she became fascinated with the social history of photography and the evolution of identity, sexuality and gender in relationship to material culture. 'Beautiful Boy,' Rivera's latest project, takes her interest in photography's connection with identity to a personal level, focusing on her domestic partner as muse. Rivera was chosen as a "Woman to Watch" for the biennial exhibition at the National Museum of Woman in Arts. Selected honors include the Griffin Museum's Peter Urban Legacy Award; Feature Shoot's Emerging Photography Award.
STATEMENT: Beautiful Boy
Lissa Rivera's photographs of BJ, her romantic partner and muse, reference historical examples of gender construction in art. The techniques, fantasies and narratives of femininity are at once dissected and indulged in a process that is obsessive, decadent and unabashedly pleasurable. The photographs transcend identity categories and break down double standards of beauty, the boundaries between public and private expression, embracing fluid identities and recognizing that truth and fantasy do not have to be opposites.
Extended Statement & More Work Here: http://lissarivera.com/beautiful-boy/
Print size for exhibition: 20x30 in
Connect on Instagram @lissa_rivera_.
Beth Brown Balancing Act
Beth Brown is an urban portrait & fashion photographer as well as a behind the scenes documentary photographer for film. She is native of Sidney, NY & is currently residing in Brooklyn.
In 2014 Beth was a Top 5 finalist for NAWBO's Small Business Week video contest No Small Thing. Beth received an Award of Merit for the 2013 CAA Regional Juried Art Exhibition. She was a Guest Artist at the Smithy Pioneer Gallery in Cooperstown, NY 2012-2014. The Brooklyn Tabernacle's 2012 mission ministry trip to the Dominican Republic was documented by her photos. Her clients include film production companies, music & film talent, published authors, non-profit organizations, an international cake boutique & private collectors of fine art.
Her photography has been presented in the Brooklyn Public Library, the Elijah Thomas gallery at the Delaware County Historical Association, the Mariea Brown & Raymond Loft Galleries by the Chenango Arts Council Norwich, The Wilber Mansion by the Community Arts Network of Oneonta, & the Sidney Memorial Public Library.
"I believe all things in life should be done with love. Every time I click the shutter on my camera, I'm doing something I love because for me photography is my passion & creative gift from God. They say beauty is in the eye of the beholder. I love finding unique beauty in my subject & capturing it in a way other people haven't seen before. My desire is for Oscar (my camera) & I to be able to go anywhere together. Therefore having versatility as a photographer is key for me. As an artist I create compositions, but creating is no fun if there is no one to work with. My absolute favorite part of the creative process is making connections & bringing people together. These are a few things that inspire my work as a photographer."
Dimensions: 13" (height) x 10.5" (width)
Connect on Instagram @babseyespix.
Sara Boccaccini Meadows GIRLS UNITE
Sara Boccaccini Meadows is a print designer and illustrator living in Brooklyn, NY. Originally from the rolling hills of the Peak District, England. Sara takes inspiration from nature and her surroundings to create unique and quirky print illustrations.
The unstable political climate has been a significant focus in her most recent work. The line of girls holding hands was inspired by the Women's March earlier this year when millions of women came together to protest women's rights and equality. It reflects the power and unity felt being amongst so many strong females.
Dimensons: 17" (width) x 8" (height)
Connect on Instagram @boccaccinimeadows.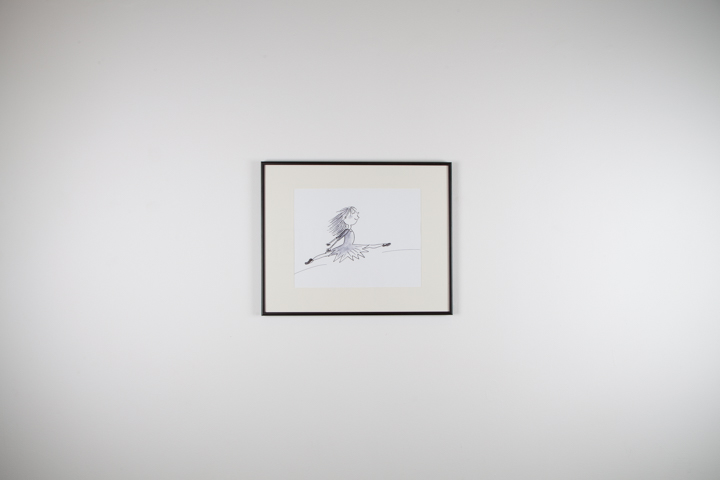 Nina Summer The Leap
Nina Summer is a Swiss artist based in Brooklyn, New York. She published her first illustration album in 2016, The 24H Book. She is currently working on a picture book called Mister Norbert Wants a Dog, an illustration series on endangered species and a coloring adventure with fantastical machines.
Her whimsical ink and watercolor work reflect on the daily relationships that populate our lives, looking for the mundane joy and the connective links as they weave the fabric of our shared society. She likes to draw cats, birds and other animals, as well as people with googly eyes. She has a passion for pro-wrestling, swing dancing and Tostitos chips.
Connect on Instagram @Pattesdemouche.
Allie Kelley Bedstuy (Detail) 2017
Allie Kelley is a Brooklyn artist from the rural South. While she is most inspired by the geometric structures of her current surroundings she often includes imagery of vegetation from her childhood in Appalachia in her art. She enjoys history podcasts, roof top gardens, and wandering through New York looking for street art.
Artist Statement - I love the brick and mortar landscape of this city, but I know that the longer I am here the more likely I am to be desensitized to its charm. In my drawings, I combine aspects of older architecture from Brooklyn and Manhattan in unusual ways hoping that I can continue to view it with fresh eyes. Organic elements found within the city or pulled from my memory of the rural South are also incorporated in order to emphasize the strength and ingenuity of the geometric steel and brick structures.
Materials: Sratchboard
Dimensions: 14 x 55 inches
Connect on Instagram @alliekelleyart.
Jess Whittam One Pound, Twelve Ounces
Jess Whittam is a New York-based artist born in Port Jefferson, New York. Her practice includes sculpture, video, and drawing. Her work has been exhibited in "Itinerant" at Crossing Art Gallery in Queens, NY (2012), YANS and RETO at Anthology Film Archives, New York, NY (2012), CinemaSunday at the Bushwick Community Darkroom, Brooklyn, NY (2015), BODY/Space at Rabbithole Projects (2016), Brooklyn, NY and +1 at Trestle Gallery, Brooklyn, NY (2016).
Material: Rubber bands and pantyhose
Size: 6"x6"x7"
Connect on Instagram @jbwhittam.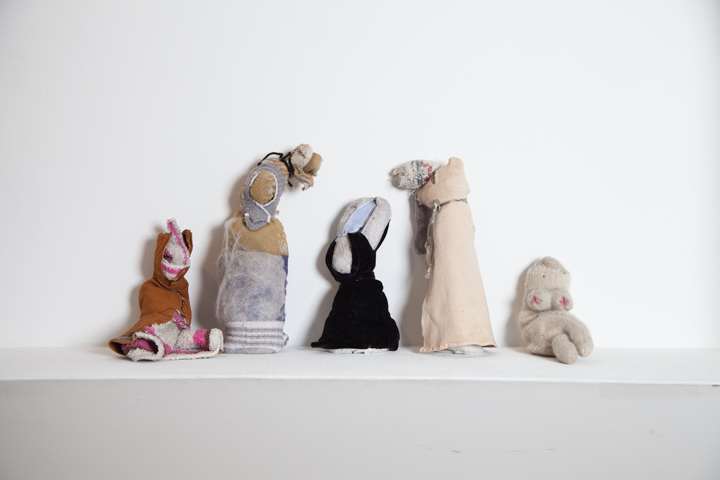 Fanny Allié Street Characters (5 female figures)
Fanny Allié was born in Montpellier, South of France. She graduated from Ecole Nationale Supérieure de la Photographie (The National School of Photography) in Arles, France in 2005 and moved to New York City shortly after graduating.
She was a selected artist for the program, Artist in the Marketplace (AIM) at the Bronx Museum of the Arts during 2006-07. A.I.R Gallery, New York City Department of Parks and Recreation, Roger Smith Arts Space, Chashama and St Eustache Church in Paris, France have organized solo exhibitions of her work. Fresh Window Gallery, Freight + Volume Gallery, Field Projects, BRIC Rotunda Gallery, FIGMENT, Dekalb Gallery/Pratt Institute and The Bronx Museum among others have featured her work in group exhibitions.
Her work has appeared in the New York Times, New York Magazine, Brooklyn Magazine, Hyperallergic, Le Monde Diplomatique, DNA Info, Marie Claire Italy and Artspace Magazine.
She showed her work with Fresh Window Gallery during Art Basel for VOLTA 12 in Basel, Switzerland in June 2016. Fanny was awarded the 2015-16 AIR Gallery fellowship. In April 2017 she installed her new interactive and participatory public sculpture Exquisite Corpse in collaboration with DOT Art and A.I.R Gallery in Clinton Hill, Brooklyn. In June 2017, she was awarded the Robert Blackburn Printmaking Workshop Studio Immersion Fellowship.
She lives and works in Brooklyn, NY.
Artist Statement
My work shows traces of a fleeting moment, an ephemeral existence and most of all, a narrative that links us to each other in our daily life.
In my recent collage work, I tear apart and re-assemble pieces of found fabric, mixed media and newsprint images to create imaginary characters. This collection of small collaged figures are informed by my daily observation of people living on the New York City streets, the news and through personal recollections.
A city is made by all the individuals who inhabit it; the ones that we see everyday and the invisible ones who merge with facades and sidewalks and who become the street itself. My practice is based on my own subjective experience of the city through the people I cross paths with, on a daily basis. Found materials is at the core of my practice: found paper, used fabric, strips of plastic or scraps of wall paint, fragments and little objects found on the street are used for the making of my characters which become creations and products of the city itself. My imaginary characters inspired by underground and unseen human figures often carry and develop alternative economies, in an urban context.
In conversation with my solitary studio practice, which is driven by the handmade process, I develop site-specific public art projects. The human figure, with a particular interest in its outline or trace, is at the core of my public work and play with ideas of memory and the mark we leave on places and others.
Connect on Instagram @fannyallie.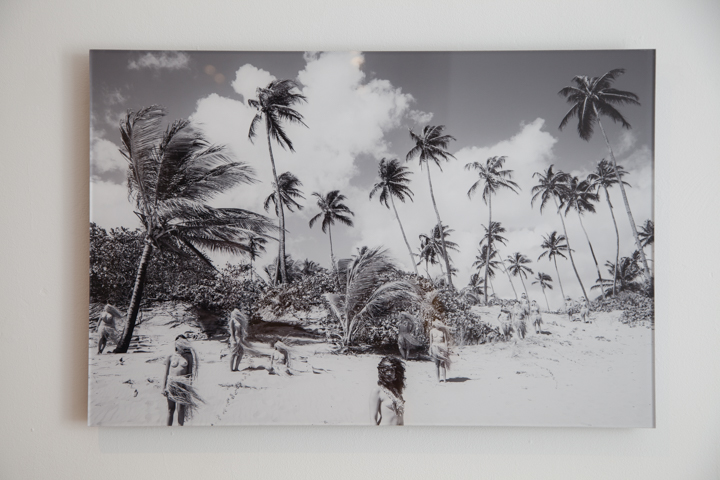 Monica Felix Epílogo #3, REINA series, 2012
Mónica Félix is a professional photographer, self-portrait and conceptual artist.
Born and raised in Puerto Rico, she got her BA at the School of Communications at the University of Puerto Rico in Río Piedras to then move to New York City where she formally completed studies in photography at Pratt Institute in Manhattan. Beyond the lens, through her feminine themes and her ambitious affirmations, Félix explores the needle and thread that unite life and art. Currently, she works between New York and Puerto Rico as a professional photographer expanding her artwork in a parallel manner.
This image belongs to an abstract body of work of photography, video and installation that compose the scenario and events of the represented scenes. Based on a two-year research I did on a lost film, the first Puerto Rican "talkie" Romance Tropical (1934), I took the facts of information about the plot and the production of it to narrate it from an empowering womanly perspective of the female characters I found. These images extend from a moment in history to the narrow path of an identity broken and forgotten nation.
Connect on Instagram @monicafelix.
Julie Orlick The O'Driscoll Sisters, wet plate collodion tintype, 2016.
Julie Orlick (b. 1990) is a Los Angeles born, Brooklyn-living avant-garde 16mm film maker and alternative photographer whose work is greatly inspired by early surrealism, 1930s french erotica, & the Commedia dell'arte. Having begun her photographic journey in 2007, her work has since grown into a large series of tintypes created in the Fall of 2016 during her residency at the Brooklyn Tintype studio in Red Hook, Brooklyn. Julie works closely with Brooklyn non-profit cinema arts organization, Mono No Aware and strictly shoots analog. She will be releasing a limited edition tintype art book in the Fall of 2017 and begin a 6 month film making/tintype residency in Berlin, Germany at The Institut für Alles Mögliche (http://www.i-a-m.tk) during January-June 2018.
This summer, she's embarking on a film tour across the country to screen a retrospective of her 16mm film work from 2014-2017, premiering her newest film, "Silent Lovers". You can view her list of screenings on her website www.julieorlick.com/screenings.
Connect on Instagram @j.r.orlick
SaveArtSpace: The Future Is Female In The News
Participating Organizations
#SAVEARTSPACE transforms advertisement space into public art by and for the local community. Providing artists opportunities to display their work in the public space. Creating an urban gallery experience, we aim to affect and inspire and new generation of artists.
One Month One Week One Day, aka 1m1w1d, is a multi-disciplinary arts organization that seeks sponsorships for monthly events from the advertising industry in order to fund artistic endeavors that benefit the greater community, including an annual $10,000 Artists Grant.
The Storefront Project is an Art Gallery / Creative Collective and is located in the Lower East Side at 70 Orchard St, New York, NY.